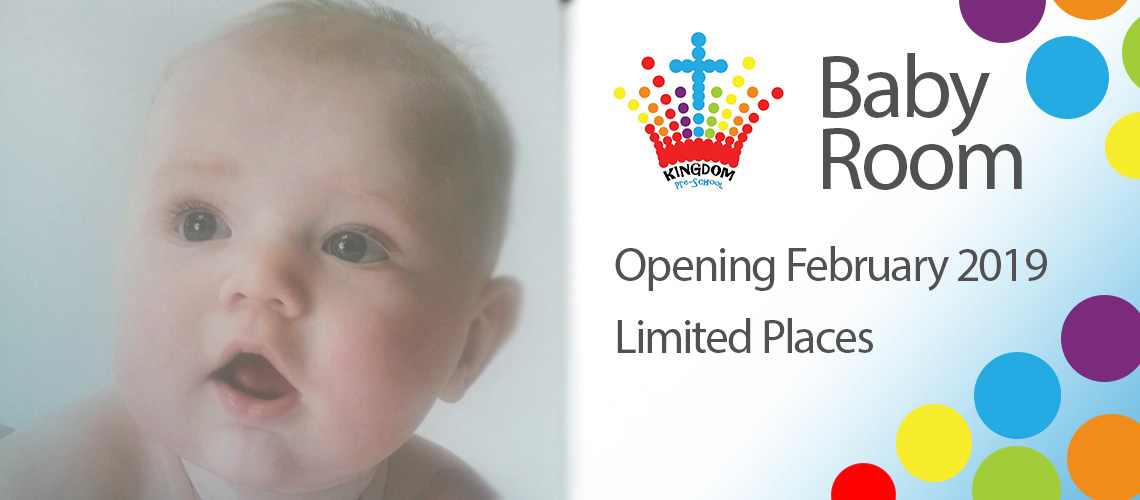 Kingdom Preschool is delights to announce that it is opening up to take babies from 25th February 2019. We will have a "young babies" room for 3mths to walking and then a toddler dedicated room for walkers to 2 years old. The demand for excellent childcare in this part of Kent is on the rise, so we felt it was a natural progression to open up our setting to families with babies.
We have been open now for coming up to 3 years and recently achieved a good rating in our Ofsted inspection. We have grown exponentially in this time, largely by word of mouth and have had to expand our operation to meet the demand. We are excited to be welcoming babies in to our Kingdom and having full nursery facilities.
Our Christian ethos and values will extend in to our baby provision through stories, sing & sign and of course quiet time/sleep time with prayers and relaxation. The care we provide is second to none, delivered by an experienced team and headed up by a Qualified Teacher as our setting manager and experienced level 5 deputy manager, giving you the peace of mind you need when leaving your precious bundle in our hands.
At Kingdom you have the added benefit of our parent contact app, parentzone, which means we can interact with you daily about your baby, sending you photos, updates on meal times, nappy changes and naps including an overview of what your baby has been up to that day. This is all accessible at the touch of an app on your phone, along with their developmental journey, your booking information and invoices.
With new facilities currently under construction and new resources to fill the beautiful new spaces, we are confident that our places will go fast, so to avoid disappointment, book your place now.
Prices & Information
Full Day – 8am -6pm
For any drop off and pick up time during the above hours – £50
Half Day – 8am -1pm or 1pm until 6pm
For any drop off and pick up time during the above morning or afternoon sessions – £27.50
Registration fee £30
Deposit £50 to secure place, which is taken off first bill.
A holding deposit for fees will be added to your first invoice which is dependent on how many hours you book per week and will be discussed with you upon induction. This is in case of non-payment of invoices.
We realise that all babies are different and every parent have their own preferences, so for flexibility, all baby milk, nappies and creams must be supplied by the parents. Once your baby is weaning you can supply their own food if you prefer, which we will heat up for you, or you can buy any meal for £1 which will be prepared in house by our chef.
Our new room are currently under construction, and we are creating an artist's impression to add to our website shortly, however you are welcome to book a viewing of the rest of our nursery and meet the team, in the meantime. Or you register your interest or indeed reserve a place with a deposit, which are limited and filling fast. Please contact us on 01304 822226 or info@kingdompreschool.org.uk.
Alternatively you can fill in the enquiry form below and we will contact you asap.